What the hell is a menstrual cup? According to Wikipedia: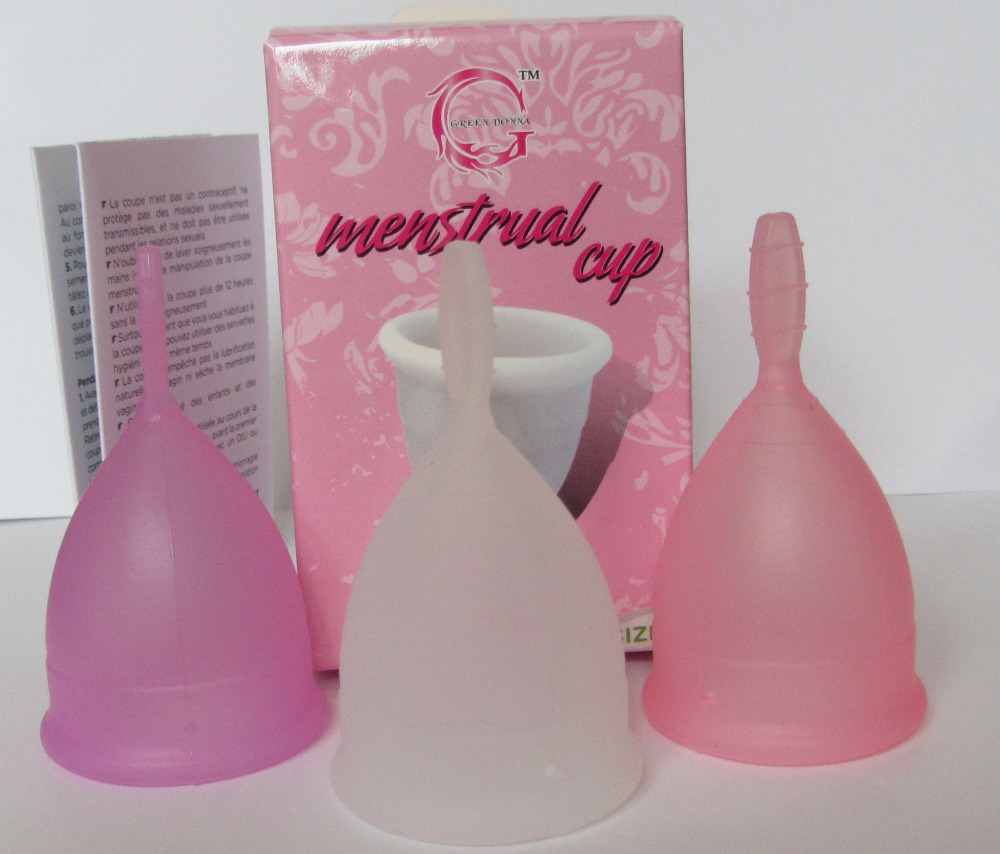 A menstrual cup is type of feminine hygiene product which is usually made of medical grade silicone, shaped like a bell and is flexible. It is worn inside the vagina during menstruation to catch menstrual fluid (blood), and can be worn during the day and overnight. (Plus they last fifteen years!)
Before I tried one of these for the first time I was VERY skeptical. Here were a few of my major concerns:
I have to empty blood out of this... in PUBLIC?

This looks dirty, how will you CLEAN it?

It looks really big and uncomfortable, how can I get it up there?
Well, I have the answers to all these questions and I also have some benefits of using a menstrual cup that I didn't consider before I owned one.
You can wear the menstrual cup comfortably for 12 hours at a time. So if you put it in at home in the morning you can remove it at home in the evening! No public mess, very hygienic.

Note: Personally, I have an unusually heavy flow on Day 1 so I actually had to wear it for a little bit less time.

You do NOT clean it with soap, which I was concerned about since soap can mess up the pH of your vagina. You clean with boiling water after use. This still might gross some people out, but if you think about it, this makes it a lot safer than using a tampon which might still have bacteria in it. We've all come across those really gross pictures of moldy tampons...

It's SUPER easy to put in. If you think about it, BABIES can come out of vaginas. This is much smaller than a baby, therefore it definitely fits.
Some of the other benefits include:
For the one time cost of $29.00 I saved myself fifteen years of buying tampons ($20 * 12 months * 15 years = $3,600). Which would you choose: spending $3600 or spending $29?

Never awkward to carry around! No more awkward wrapper crinkle in public restrooms, no more wondering if your tampons are going to fall out of your purse. The menstrual cup can be kept in an adorable little bag for storage so you can bring it anywhere, at any time, just in case.

Environmentally friendly. Tampons, pads and all their wrappers produce a LOT of waste. Over fifteen years, the lifespan of a menstrual cup, I can't imagine how much waste we produce using tampons and pads. This cuts down on waste, making sure we live in a more sustainable way.

NO overnight leakage! I didn't believe that I could possibly sleep through the night without creating a huge mess. I've ruined countless sheets, underwear and pajama pants throughout my life but the menstrual cup seems to have stopped this, even with a heavy flow.
I'm not going to lie to you though... it hasn't all been smooth sailing.My first time trying to remove my menstrual cup was similar to the first time I tried to remove my contact lenses. I thought it was "stuck" and proceeded to panic. Thanks to google, I realized that there's simply a technique to removal and instructions exist for a reason. With the recommended technique, it's become easier to remove over time. What I'm saying here is that it IS an adjustment.For me, the benefits far outweighed the cost of that traumatizing "it's stuck and a part of my body forever" moment. I especially love the fact that I won't have to deal with another cardboard applicator (only type of tampons available in Saint Lucia that I've seen) for the rest of my life. Seriously, who invented those?! I think menstrual cups are an amazing innovation for everyone who menstruates. There's nothing gory or gross about them. All my concerns disappeared the moment I actually tried it out. I highly recommend this product to anyone interested in handling their menstruation in an environmentally friendly, inexpensive and sanitary way.